I thought I might try something new this week, I've picked a male protagonist out of one of the books I have read lately and I'm going to do a little write up about him. Something different for this cold Monday morning.
WARNING: CONTAINS SPOILERS!
The man I picked for this inaugural MCM is from Cassandra Clare's Infernal Devices series. Rather than pick the obvious, the main protag William Herondale I have instead chosen to do a profile on James Carstairs, more commonly known as Jem.
Born in Shanghai to a British father and Chinese mother, Jem was orphaned at the age of 12 when a greater demon killed his parents and tortured Jem by poisoning him with a drug called Yen Fen, a demon drug which is highly addictive and once addicted,it is impossible to be cured and slowly kills the user.
Jem is sent to live at the London Institute, where he meets William Herondale and Jessamine Lovelace, who are also wards of the Institute. Jem and Will become fast friends and train together whenever the illness caused by his dependency does not cause Jem to become incapacitated.
Eventually the two young boys become Parabati, a ceremony where they pledge to fight together and be there for each other for the rest of their lives. Whereas Will is reckless and often in trouble, Jem is a more thoughtful and careful character. He has a gentle disposition and a very caring nature. Because of his illness and careful nature, he tends to be more introspect than his Parabati, thinking things through before he acts.
The series start when Jem and Will are 17. Shortly after Will rescues Tessa Gray from the Dark Sisters. Tessa is a warlock though at the time she didn't know that. Jem meets her for the first time when she hears him playing the violin late at night and follows the music into his bedroom where he has been overcoming the latest attack of illness caused by the Yen Fen. Straight away Jem finds himself drawn to her. Eventually, after a number of adventures, they become engaged.
But the drug he is addicted to is now making him sicker and sicker. Will desperately searches for a cure, scared of losing his best friend but Jem begs him to stop looking. He accepts the fact that he is dying and will never get to marry his true love but fate has another plan instore for him.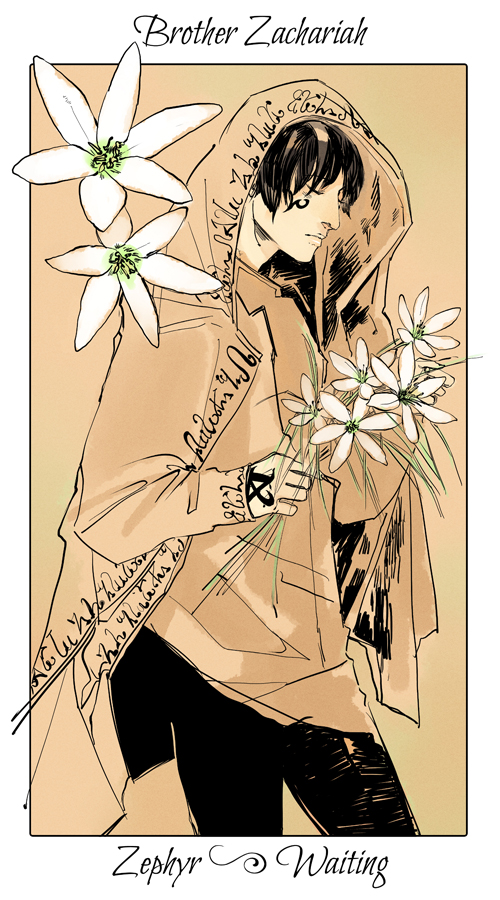 While Will and everyone thinks he has died, in truth he becomes a Silent Brother and is given the name Brother Zachariah, his mortal life is now a thing of the past but he still meets Tessa once a year, at the bridge that had become their special place.
Meanwhile Tessa marries Will and together they run the London Institute until Wills death. Because Tessa is a warlock she is immortal and for 129 years the two meet at the bridge but have no hope of a future together until the Yen Fen is burned from his system by Jace Herondale, a descendant of Will Herondale's, using heavenly fire.
Now cured, he is released from his service to the Silent Brotherhood and the next time he meets Tessa on Blackfriars Bridge he tells her that he never stopped loving her and the two live happily ever after. They marry and move to Los Angeles where the only descendant he can find, Emma Carstairs, lives with the Blackthorns at the Los Angeles institute.
Jem is one of the best characters written by Cassandra Clare, he is intelligent, gently yet fierce when he needs to be and has an exceptionally caring nature. Even when he becomes Brother Zachariah, that sweet nature shines through. Plus he is a cat person, he rescues Church who goes on to become the London Institute cat and lives a long long life. Jem is reunited with Church when he leaves the Silent Brotherhood.
I would love to see a book written about Jem's full story, from childhood in Shanghai to his time in the Brotherhood to being reunited with Tessa and what happens from there. I imagine it would be a lovely story and a great addition to the Infernal Devices/ Mortal Instruments series.
I hope you enjoyed this first Man Crush Monday. Let me know in the comments your thoughts and any recommendations for future profiles.
thanks for visiting. Happy reading.