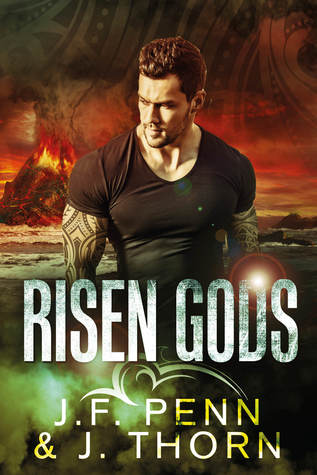 "It doesn't matter what you believe. The time is here regardless, and they are coming. After so long, the gods are rising again."
Ben Henare turned away from the gods of his ancestors to follow his own path, choosing the modern world over myths of demons and monsters.
But when New Zealand is shaken by earthquakes and dark powers are released, Ben must fight his way north through ice caves and oceans, battling the evil god Whiro and the creatures of the earth and sky.
Lucy Campion is a trainee doctor, a rational scientist with no belief in demons. When her parents are killed and her sister is threatened, Lucy is tasked with carrying an ancient talisman north to where the oceans meet. But both human and supernatural foes stand in her way.
As the people they love are threatened and New Zealand begins to crumble, can Ben and Lucy find each other again and save the country from the wrath of the Risen Gods? (taken from Goodreads)
It doesn't matter if you don't believe in the old gods, they exist, and they are coming back.
Its not often that a book successfully melds the modern and the ancient and does it in such a way as to keep a reader enthralled and leads them to discover something about themselves that they didn't know existed. A belief in the myths that are as much a part of our culture as the Haka or the All Blacks.
I have always been fascinated by old myths and legends, It doesn't matter where you go in the world, every country has stories of gods and heroes which have been handed down for generations. As a child of New Zealand, I grew up on the Maori legends. At school we were taught of the hero, Maui and of the great love of Ranginui and Papatuanuku. These are just a few amongst the many stories of gods, monsters and heroes in Maori mythology.
Risen Gods brings many of those stories to life and packs them into an adventure filled dark fantasy that sets the imagination a-fire. This well researched novel dares to ask, what if it isn't myth, what if it was all true. What if taniwha (monsters) did once roam this land? Is it the gods that cause the earthquakes that have been rocking our islands these last few years? Are they upset over the abuse we have subjected this beautiful country to? Are demons lose and causing the chaos we have been subject to this decade? The earthquakes, tsunami, volcanic eruptions and wild storms?
Ben didn't believe in the old gods, he shrugged them off as stories his old Koro (grandfather) told him when he was a kid. Lucy didn't believe in them either, what did these Maori myths have to do with a pakeha girl? But the gods had a mission for these two, who had been best friends since childhood, and time was running out. It was up to two non-believers to learn the truth and save the country, before it was to late.
Dark fantasy at its very best. Put Risen Gods to the top of your reading list. It doesn't matter where you are in the world, this is a fascinating and compelling novel with some very strong characters and an edge of your seat narrative. It is well researched and crafted with great care. It took me just one night to read this book from cover to cover, it was one of the best stories I have ever read, I couldn't put it down. As a kiwi it struck a cord with me, and as someone fascinated with the many dark and scary legends across the world it caught my imagination. If you truly want to get lost in a book, this is the one you want.
10/10
Happy Reading